America's Tax Professionals
ATP® has arranged with Golden State Tax Training Institute GSTTI®
(an IRS and CA approved continuing education provider) to offer you the required
CA CTEC 20 and CTEC 60 hour course as well as voluntary IRS continuing courses at very reasonable price.


Do not wait!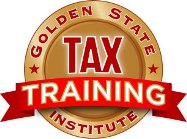 Be sure to enter ATP as your referral code

© ATP (2001-2019) America's Tax Professionals. All rights reserved.